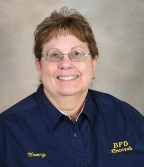 11 Jun

Surviving Breast Cancer | Nancy Eden

Nancy Eden is a Police Transcriber with the Bakersfield Police Department in Bakersfield, CA.

My name is Nancy Eden and I am a Police Transcriber for the Bakersfield Police Department. I have been cancer free for 15 years. In March 1994, after having my mammogram, my doctor told me a closer look was warranted. I had two spots on my right breast that were suspicious. I had biopsies done on the two spots. In April 1994, I was diagnosed with in situ carcinoma of the breast. The cancer was caught early because I suffer from fibroid cysts in my breasts and had been monitored closely since I was in my late 20's.

Common belief in 1994 was that breast cancer was an "old woman's" disease. I am here to tell you, it's not! Of course, there were times during treatment when I felt I was an "old woman."

The treatment for in situ carcinoma in my case was a lumpectomy and radiation. During the operation, the doctor removed the lymph node in my right armpit and I suffer from nerve damage as a result. The damage has healed during the last 15 years to a point where it does not bother me very much.

The radiation treatment was painful because my skin was being burned; however, I thanked God for the pain since it meant I would survive the cancer. My daughter was a teenager when I was diagnosed and she and I went through the aftermath of the radiation treatments. Cancer did not win and I am proof that it can be beat.

Cancer does not mean a death sentence today. There are so many things being done now for breast cancer that weren't being done when I was diagnosed with it.

I have a hero who is also a survivor. My dad, Bobby Miller, was diagnosed with bladder and prostate cancer in 2007 when he was 79 years old. In 2008, he had a complete bladder removal and reconstruction, as well as a complete removal of his prostate. He is cancer free as of March 2009 and he will be 81 years old in May.

During my experience with cancer, I have had ups and downs, and highs and lows. I depended on my faith in God to help me through the fight and this experience made me stronger and more open to what life brings.

Keep fighting the fight and winning!